BitscomIndia is a premium web design & development company from Pune, India that provides a wide range of solutions for both small to large companies world wide.We specialized in rich interactive experiences in Web , Mobile since 2012.
We're an agency born out of a passion to make great products. We help companies and startups from all over the world materialize their ideas into great projects.
We're a close team of creatives, designers & developers who work together to create beautiful, engaging digital experiences. We take pride in delivering only the best..
Our Proven Process, Produces Results
Official Digital Partners Of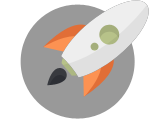 We're Here To Help Your Business Blast Off!
Through Creative Ideas, Innovation & Sheer Determination